WEBINAR SERIES AT DEPARTMENT OF MOLECULAR BIOTECHNOLOGY AND HEALTHY SCIENCES
Dati principali del Corso ECM FAD
Codice evento
C0475
Edizione n°
1
Disponibile dal
15/07/2020
Disponibile fino al
15/07/2020
Ora Inizio
14.00
Ora Fine
15.00
Totale ore formative
1.00
Traccia audio
SI
Traccia video
SI
Modalità download certificato
Email / Web
compatibilità
smartphone / tablet
Salva questo corso nel tuo Smartphone:
crediti ecm 0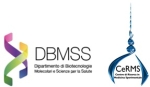 Corso ECM FAD
WEBINAR SERIES AT DEPARTMENT OF MOLECULAR BIOTECHNOLOGY AND HEALTHY SCIENCES
PREMISE OF CANCER IMMUNOTHERAPY: WHERE DO WE STAND



SECONDO WEBINAR - 15 LUGLIO 2020
"Immune activation models the tissue stroma: lesson from conventional and germ-free animal models"

Speaker: Luca Vannucci - President of the Czech Immunological Society


WEBINAR NON ACCREDITATO ECM - Il Seminario si terrà il giorno 15 luglio 2020 dalle ore 14.00 alle ore 15.00. Ad iscrizione effettuata verrà inviato via mail il link per la partecipazione all'incontro.



Questo è un corso FAD, il corso è chiuso, non è più possibile iscriversi.
le iscrizioni sono terminate il 15.07.2020
Presentazione del corso
The elicited expression of stress molecules and release of alarmins from a transformed cell clone in expansion starts the early immune reaction and tissue changes. This can lead to either tumor clone ablation or its establishment and progression, involving the collagen scaffold that appears particularly sensible to the local immune changes. In our animal models we simulate various conditions of immune activation (chronic inflammation, carcinogenesis) involving the colon mucosa and the relationship immunity-structure and its high dynamism appear evident. The evidenced changes in the collagen scaffold, by 2-photon confocal microscopy, appear linked to the changes of pro-inflammatory signals and their regulation in the tissue microenvironment.
This was seen under the various conditions of enhanced immune response in the colon ( DSS-induced colitis in the rat and in the mouse, AOM-induced carcinogenesis in the rat and in the bacterial colonization of germ-free mice) The integrated role of IL-6, IL-1, IL-10 and TGF-β, depending the type of inflammatory process involving the microenvironment, appears since early period.
The comparison with human samples from colon cancer surgical specimens - including normal mucosa, near tumor mucosa and cancer tissue, showed the morphological changes were paralleling the immunological features in the mucosa. The condition of progression to tumor can be hypothesized as consequent to a downregulation or deficiency of regulatory response cytokines in the initial phases of tumor microenvironment establishment.
Docenti del corso
Prof. Francesco Novelli e del Comitato Organizzatore composto da Alessandra Ghigo, Laura Conti, Paola Cappello e Claudia Curcio