WEBINAR SERIES AT DEPARTMENT OF MOLECULAR BIOTECHNOLOGY AND HEALTHY SCIENCES
Dati principali del Corso ECM FAD
Codice evento
C0477
Edizione n°
1
Disponibile dal
29/07/2020
Disponibile fino al
29/07/2020
Ora Inizio
14.00
Ora Fine
15.00
Totale ore formative
1.00
Traccia audio
SI
Traccia video
SI
Modalità download certificato
Email / Web
compatibilità
smartphone / tablet
Salva questo corso nel tuo Smartphone:
crediti ecm 0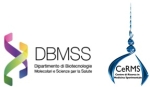 Corso ECM FAD
WEBINAR SERIES AT DEPARTMENT OF MOLECULAR BIOTECHNOLOGY AND HEALTHY SCIENCES
PREMISE OF CANCER IMMUNOTHERAPY: WHERE DO WE STAND



QUARTO WEBINAR - 29 LUGLIO 2020
"PI3Kgamma is a molecular switch that controls the immune response involved in hypertension"


Speaker: Prof. Daniela Carnevale - Dept. of Molecular Medicine "Sapienza" University of Rome & Dept. of Angiocardioneurology and Translational Medicine IRCCS Neuromed - Technology Park Località Camerelle


WEBINAR NON ACCREDITATO ECM - Il Seminario si terrà il giorno 29 luglio 2020 dalle ore 14.00 alle ore 15.00. Ad iscrizione effettuata verrà inviato via mail il link per la partecipazione all'incontro.



Questo è un corso FAD, il corso è chiuso, non è più possibile iscriversi.
le iscrizioni sono terminate il 29.07.2020
Presentazione del corso
The nervous system and the immune system share the common ability to exert gatekeeper roles at the interfaces between internal and external environment.
Although interaction between these two evolutionarily highly conserved systems is long recognized, the investigation into pathophysiological mechanisms regulating their reciprocal cross-talk has been the object of pathbreaking immunology and neuroscience research only in recent decades. In the last years, our group elucidated how the autonomic nervous system controls the splenic immunity recruited by hypertensive challenges, uncovering a new molecular pathway mediating the neuroimmune interaction established by noradrenergic-mediated release in the spleen of placental growth factor (PlGF). Once activated, T cells egress from the spleen and are deployed toward tissues that are typically involved in blood pressure regulation, like the vasculature and kidney.
PI3Kgamma emerged as a fine regulator of T cells egression/activation and a crucial mediator of the immune-vascular interface established in the target organs of hypertension.
Docenti del corso
Prof. Francesco Novelli e del Comitato Organizzatore composto da Alessandra Ghigo, Laura Conti, Paola Cappello e Claudia Curcio