WEBINAR SERIES AT DEPARTMENT OF MOLECULAR BIOTECHNOLOGY AND HEALTHY SCIENCES
Dati principali del Corso ECM FAD
Codice evento
C0478
Edizione n°
1
Disponibile dal
22/07/2020
Disponibile fino al
22/07/2020
Ora Inizio
14.00
Ora Fine
15.00
Totale ore formative
1.00
Traccia audio
SI
Traccia video
SI
Modalità download certificato
Email / Web
compatibilità
smartphone / tablet
Salva questo corso nel tuo Smartphone:
crediti ecm 0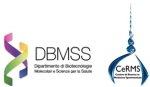 Corso ECM FAD
WEBINAR SERIES AT DEPARTMENT OF MOLECULAR BIOTECHNOLOGY AND HEALTHY SCIENCES
PREMISE OF CANCER IMMUNOTHERAPY: WHERE DO WE STAND



TERZO WEBINAR - 22 LUGLIO 2020
"Synthetic biology of bacterial outer membrane vesicles (OMVs) for the development of vaccines against infectious diseases and cancer"


Speaker: Prof. Guido Grandi - Dept of Cellular, Computational and Integrate Biology, University of Trento


WEBINAR NON ACCREDITATO ECM - Il Seminario si terrà il giorno 22 luglio 2020 dalle ore 14.00 alle ore 15.00. Ad iscrizione effettuata verrà inviato via mail il link per la partecipazione all'incontro.



Questo è un corso FAD, il corso è chiuso, non è più possibile iscriversi.
le iscrizioni sono terminate il 22.07.2020
Presentazione del corso
Historically vaccines were produced using whole attenuated or killed pathogens and still a large proportion of current vaccines utilized such procedure. However, the development of novel vaccines is preferentially based on the selection of specific components which alone are capable of eliciting protective immune responses. This is particularly true for cancer vaccines, which must include tumor-specific and tumor associated antigens. Therefore, the big challenge for vaccinologists is how to select the right antigens and to combine them with proper immune stimulatory components (adjuvants) in order to induce protective immunity. In this lecture strategies for the efficient identification of protective antigens against infectious diseases and cancer will be presented. Furthermore, since subunit-based vaccines against recalcitrant pathogens and cancer require more than one antigen and/or immune stimulator, this poses the problem of how to make such vaccines not only efficacious but also economically acceptable. To address this issue data will be presented showing how bacterial Outer Membrane Vesicles (OMVs) could become a promising platform for the development of future vaccines.
Docenti del corso
Prof. Francesco Novelli e del Comitato Organizzatore composto da Alessandra Ghigo, Laura Conti, Paola Cappello e Claudia Curcio